Bosch may show us a new cockpit on the Eurobike show…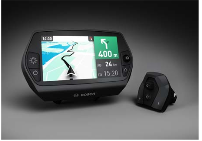 The name of the new display is Nyon. Feature list:
– this could be the display for Performance Line, it means you can adjust the motor via this screen
– you can link your mobile phone via bluetooth to it. You can download some apps to your smartphone, which could communicate with your engine,
– you can link your heart rate monitor to it
– you can use the screen for navigation.
What do you think about the new display?
Source: e-bike-finder.com